PHYTOSANITARY TREATMENT NIMF-15
What is NIMF-15?
It is a FAO phytosanitary regulation for wooden packaging used in international trade. It has been adopted by a large majority of countries to prevent the spread of harmful organisms in the forest masses . In Spain it has been revised in 2013 changing some previous criteria.
In what countries do they demand it?
In import, it is required in all countries of the European Union , except in intra-community operations.
In exports, the countries of destination that demand or are recommended are: in Europe (Belarus, Bulgaria, Norway, Portugal, Russia, Switzerland, Ukraine), in America (Argentina, Bolivia, Brazil, Canada, Chile, Colombia, Costa Rica, Cuba, Ecuador, United States, Guatemala, Guyana, Honduras, Mexico, Nicaragua, Paraguay, Peru, Dominican Republic), in Asia (China, South Korea, Philippines, Hong Kong, India, Indonesia, Japan, Malaysia, Sri Lanka, Taiwan), in Africa (Egypt, Nigeria, Seychelles, Syria, South Africa), in Middle East (Israel, Jordan, Lebanon, Oman, Turkey) and in Oceania (Australia and New Zealand).
What products does it affect?
Stowage , packaging , packaging or wooden pallets thicker than 6 mm . It excludes those made only of technical woods (plywood, chipboard, fiber boards, etc.), or with materials that have undergone processes equivalent to thermal treatment (HT) in their manufacture.
It required?
Use of new or used container, packaging and pallet suppliers that have obtained the authorization and registration number to operate and mark the wood packaging under ISPM No. 15.
             The product marked NIMF-15 , must be treated once with heat treatment (HT), or with equivalent processes.
Heat treatment
Wood or packaging must be submitted to a specific time / temperature program, so that it reaches a minimum temperature of 56 ° C for 30 continuous minutes in the entire profile of the wood (including its central part).
The marking and its meaning
The base mark used to certify that the wood packaging material that carries it has been subjected to an approved treatment, which can only be applied by a supplier or an authorized third party, must appear on two opposite sides of the new treated product and include exclusively the following elements in color different from red or orange: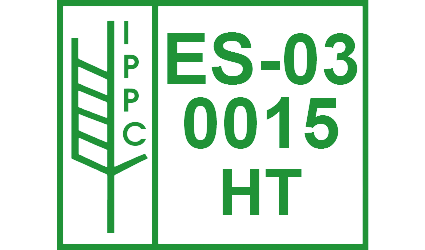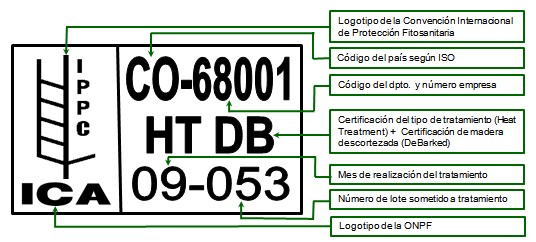 Documentation and Inspection
Your NIMF-15 supplier keeps an internal record, compliance and traceability of materials and products under the regulations, and is subject to periodic inspections by the Administration or authorized bodies.
           In principle, the marking under authorization of the Spanish Administration is sufficient for the purposes of compliance with the NIMF-15 internationally and the customs inspection, not requiring additional certification.